Research
---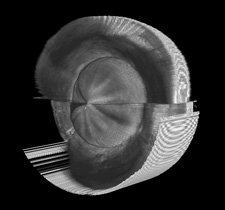 Master's Thesis
A Computer-Based Method to Analyze In-Vivo Human Lens Morphology and Density Using Scheimpflug Photography
(University of Illinois at Chicago – Fall, 2008)
Created a brand new way of visualizing in-vivo anterior segment ocular anatomy by creating 3D digital models of the eye from Scheipflug photographs. 3D models proved useful in studying anatomical lens sutures.


Tested for a correlation between visual function and lens optical density. A statistically significant indirect correlation between contrast sensitivity and nuclear and cortical density (Pearson correlation, p < 0.05) was found.


Data was collected from patients at ophthalmology clinics at Rush and Northwestern University hospitals.


Was honored to speak at the Association for Research in Vision and Ophthalmology (ARVO) annual international convention in Ft. Lauderdale, FL.
---
Undergraduate Research
Zoology 699 Directed Studies in Zoology
(University of Wisconsin- Madison – Fall, 2002)
Studied skeletal proportion in relation to behavioral differences between the Red-footed (Sula sula), Blue-footed (Sula nebouxii), and Masked Booby (Sula dactylatra).


Received award for a presentation poster with the best use of graphics