About Andrew Larson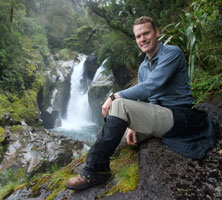 Thanks for visiting my website! I currently live in Madison, WI, "Seventy-seven square miles surrounded by reality," so it is said. I am currently attending UW–Madison to become a doctor of physical therapy (DPT), class of 2016.

Please email me if you are interested in a commission, buying prints, or would like to see my resume.

---
In 2005, I received a Bachelor of Science degree from the University of Wisconsin-Madison where I double majored in art and zoology, concentrating in graphic design. In December, 2008, I received a Master of Science in biomedical visualization from University of Illinois at Chicago (UIC) – one of five accredited medical illustration programs in North America. During my graduate studies, I completed a master's thesis research project that involved human subject-based clinical research. I was honored to present my research at the April, 2008 Association for Research in Vision and Ophthalmology (ARVO) annual international convention in Ft. Lauderdale, FL. I have since been working as a freelance artist specializing in medical/scientific illustration and graphic design. I have contributed illustrations for anatomical books, patient educational brochures, websites, marketing material, and more. I've lived and worked in New Zealand for a year (hense the waterfall picture) and married the love of my life. I then got my Doctorate of Physical Therapy (DPT) from University of Wisconsin-Madison in 2016. As a practicing outpatient PT, I have been searching for bridges between the fields of PT and biomedical visualization. I believe I have unique skills I can add to physical therapy and I believe that becoming a practicing clinician will make me a better artist and vice versa.